Special Offers
Christmas Karting Parties

There's still a few weeks remaining until Christmas but are your party plans finalised yet? We would like to invite you to the most exciting and fastest party around, and best of all, as a valued customer of Grand Prix Karting, the parties free....
For those who haven't yet sampled one of these fantastic and hugely atmospheric events, the thrill of competitive motorsport is fused with Christmas bonhomie to create a very special night or day out.
Soak up the festive seasonal atmosphere with our free Christmas pack of Bucks Fizz, party poppers, crackers, mince pies, novelties etc... and, you never know, a mystery guest may even appear to present your medals.
With events, such as the popular Flying 40, starting from just £30 per head, there's absolutely no excuse not to book and claim your free party today!
http://www.grandprixkarting.co.uk/special-offers/christmas-karting-party.php
The Open Challenges

Ultimate End of Year Challenge - Sun 8th December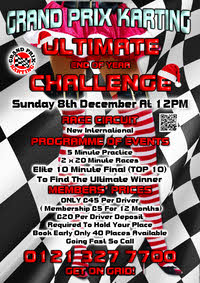 "The Open Challenge" allows individuals, small groups, first-timers and die-hard enthusiasts to meet and compete against each other and find out who really is the best driver of the day.
Our next Open event is Sunday 8th December, 12.00noon at a special Club Members price of £45 per person. Membership can be obtained at the circuit for just £5 pp and will last a whole year.
The event will be held on the massive "New International" circuit, which measures in at a distance of just under 1km, and will comprise of a 5 minute practice / qualifying session and two 20 minute races per driver, with the grid positions for the second race being a reverse of the finishing order of the first race.
The results of the two races will then be combined in order to determine the grid positions for the Top Ten Final Shoot-out to find the Ultimate Winner.
So you can not just go slow in the first race to get a better starting position for the second, it is all out speed and you have to be good in both! Medals and bubbly spraying on the podium for the top 3 drivers of the Final.
Places are strictly limited so call 0121 327 7700 to book your place on the grid now.
http://www.grandprixkarting.co.uk/docs/08-december-open-event-2013.pdf
Club Members Offers
Club Membership is available for just £5 pp for one years membership and gives you access to all of the Club's special offers, regular open meetings and practice sessions.
Peak Offers

10% off per driver / team OR 33% extra race time on Wheels 30 or Wheels 60 adult race event packages booked Tuesday - Friday evenings or all day Sunday.
Wicked Weekdays

20% off per driver / team OR 50% extra race time on Wheels 30 or Wheels 60 adult race event packages booked Wednesday or Thursday daytimes (latest Start Time 5pm).
Super Specials

36% off per driver / team OR 50% extra race time on Wheels 30 or Wheels 60 adult race packages OR £15 off Ironman / Twenty:20 adult race packages booked on any of the following dates / times featured below only:
Thursday 6th December, 5.00pm
Sunday 8th December, 3.00pm
Wednesday 11th December, 3.00pm
Friday 13th December, 5.30pm
Sunday 15th December, 12.30pm

These dates are hot!, hot!, hot!!! and will sell out very quickly. First come, first served so when they are gone... they are gone!!! Do not delay, pick up the phone and call 0121 327 7700 and reserve your space now... before somebody else does!!!

N.B. All offers are subject to availability and conditions and may not be combined or used in combination with any other offer or promotion. Minimum numbers apply.
Club Special Events
Flying 40 Team Endurance Race
Ideal 'Fun Event' for private groups, celebrations, birthdays, office get-togethers etc, our special "Flying 40 Team Endurance" is perfect for groups that want to be entertained with the guarantee of genuine racing in REAL karts on a REAL Circuit.
Available on the "New National" Circuit for groups of 12 - 30 drivers, this new format offers unbeatable value for those who want a really cool event.
Your booking will be totally private and exclusive with the group being greeted on arrival, signed on and kitted out and briefed before dividing into teams of two and taking to the circuit for a 10 minute warm-up practice / qualifying session.
Savour the 'banter' as Teams are issued with a Pit Board to 'call' driver changes in a relay format with the duo that complete the most laps in the 40 minute race being declared the winners. Full Podium Ceremony with Medals and Bubbly Spraying.
The "Flying 40 Team Endurance" is available to groups of Club Members at a fantastic price of just £30pp (membership is currently open and costs just £5 pp for one year) and can be booked in any available Tuesday - Friday slot.
To book or for more information, please call 0121 327 7700