Birmingham Go Karting Online Event Availability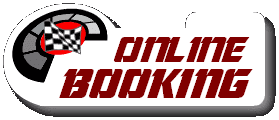 Book your go karting session online 24/7 with Grand Prix Karting's online reservation system where you can search for and book exciting Open Race Events and fun Book & Drive Informal Sessions for small groups & individuals.
Please note that the list below only shows a small proportion of the events that we have available and are highlighted exclusively for online booking of small groups and individuals.
If the date you are interested in is not listed here or you are a large group or company wishing to book a session on a private and exclusive basis then we may still have it available. Please call the office on 0121 327 7700 or send us a message via our contact page for further help and information.
For hygiene purposes, children will need to wear a balaclava under their helmet. These can be purchased at the circuit for £3 or you can bring your own.
All prices quoted below include any online booking or special offer discount where applicable and are exclusive to bookings made online. You will not receive this discount if you try to book at the circuit or over the phone. The reservation window closes 2 hours before each event, so do not delay.

Sun 26th Jan 10:00
Owner Driver Full Track Day (8yrs+)
£45.00
[ 49 Left ]
Experienced drivers with their own race karts can guarantee their space on this Owner Driver Track Day and save 10% on the gate by booking in advance. This session is open to Cadets, Juniors, Seniors and Pro-Karts and will run from 10am-5pm with 1 hour lunch break. Gates open 9am.
---
Price is for one kart / one driver. Additional drivers per kart are charged at
£10
.
---
Please note:
All karts brought must conform to the safety standards set out by the NKA. Cadet and Junior drivers must be pre-booked and will need to show evidence of their competence to drive before being allowed on circuit (this can either be a current MSA license, proof of testing / racing at another circuit or having attended one of our special mid-week assessment sessions).
---
Sorry, we do not currently allow gearbox/shifter or classic karts on these special Track Days, but you may be able to book your own private mid-week test session to drive those type of karts.
---
Please see our
Owner Drivers page
for more details and full Rules & Regs.
Price includes 10% online booking discount. (normally £50.00 )
Invite your friends & family to join you on this event by copying the link below and pasting in your email / txt message or sharing in your social media post.
https://www.grandprixkarting.co.uk/booking/event/13137/