Birmingham Go Karting Online Event Availability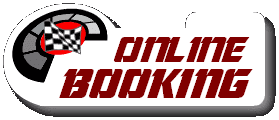 Book your go karting session online 24/7 with Grand Prix Karting's online reservation system where you can search for and book exciting Open Race Events and fun Book & Drive Informal Sessions for small groups & individuals.
Please note that the list below only shows a small proportion of the events that we have available and are highlighted exclusively for online booking of small groups and individuals.
If the date you are interested in is not listed here or you are a large group or company wishing to book a session on a private and exclusive basis then we may still have it available. Please call the office on 0121 327 7700 or send us a message via our contact page for further help and information.
It is compulsary to wear full protective gear whilst racing: suit, helmet, gloves & balaclava, but due to stricter COVID-19 hygiene regulations we will no longer supply laundered gloves or balaclavas. You are advised to bring your own or purchase new at the circuit (Balaclavas: disposable - 50p, premium - £2; Gloves: £2 per pair). We will continue to supply sanitized suits and helmets, but again you are welcome to bring your own if they meet the required regulations.
All prices quoted below include any online booking or special offer discount where applicable and are exclusive to bookings made online. You will not receive this discount if you try to book at the circuit or over the phone. The reservation window closes 2 hours before each event, so do not delay.

Sorry, there does not appear to be any online bookable events in the current period.
Please call the office on 0121 327 7700 to find out availability and book in.