Children's Arrive & Drive
Practice Sessions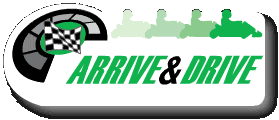 Due to the current Coronavirus / COVID-19 pandemic, unfortunately we will not be offering any walk-in sessions until further notice. Please contact the circuit for advice on small family packages that may be available.
The best way for under 16s to enjoy a fun go-karting session at Birmingham Wheels. Time is set aside on the "Club Circuit" at weekends and selected school holidays throughout the year for Children's Arrive & Drive sessions where they can simply turn up (accompanied by parent or guardian), pay their race fee and drive! Price includes basic tuition, hire of race kart, helmet and race suit.
It is compulsary to wear full protective gear whilst racing: suit, helmet, gloves & balaclava, but due to stricter COVID-19 hygiene regulations we will no longer supply laundered gloves or balaclavas. You are advised to bring your own or purchase new at the circuit (Balaclavas: disposable - 50p, premium - £2; Gloves: £2 per pair). We will continue to supply sanitized suits and helmets, but again you are welcome to bring your own if they meet the required regulations.
Purchase your tickets in advance with our online booking system and save 10% on gate prices.
For an extra special Birthday treat, why not try booking an exclusive "Childrens Karting Party"?
Minimum age: 8 years (must be accompanied) - Minimum height: 4' 0" (1.23m)
* 14 / 15 year olds are welcome to join in with this activity but please be aware that for the safety of our younger members all karts are speed restricted.