The Ultimate Open League Challenge 2019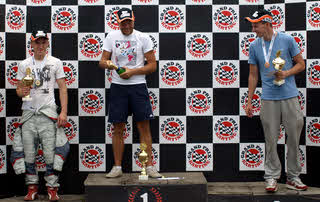 The Ultimate Open League allows individuals, small groups and die-hard enthusiasts to meet and compete against each other and really find out who's the best driver of the day.
For each Open Race that you enter you will receive points for your finishing position, with the top 3 who accumulate the most points from their best 5 races in the Ultimate Open League and the bonus Final race being awarded special prizes at the season's finale.
For details of previous years results please visit our Ultimate Open League Hall of Memories.
Each round of the Ultimate Open League Challenge costs just £50 per driver (£100 per team of 2 for endurance races), with each having a different format to provide a unique challenge to every driver.
Book your sessions online now at this special price or pre-enter and pay for all 8 races in the Ultimate Open League for the discounted price of £340. (A saving of 15% off each round!)
Places are strictly limited so call 0121 327 7700 or visit our booking page to get on grid right now.
For more details on each event please click on a title in the Open League Schedules below.
Click to view / download The Ultimate Open League Schedule 2019 as a pdf document.