Birmingham Wheels Go Karting / Stag & Hen Parties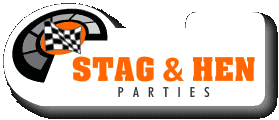 There is no more exhilarating way to start your Stag or Hen celebrations than a race event on the National or International Circuit. This is no indoor traffic jam but life in the fast lane with REAL Karts on a REAL Circuit.
The Birmingham Wheels International Circuit, with its illustrious heritage, is one of the most respected motor sport venues in the UK. The International Circuit is recognised as one of the most testing in Europe and whilst it attracts many of the UK's top drivers its sheer size and space can safely accommodate drivers of different abilities and experience.
Just a mile from the bars, clubs, restaurants and hotels of Birmingham city centre, this unique venue is a must for every driving enthusiast.
The Stag / Hen becomes the star of the show as you are greeted on arrival by your Race Director, signed-in, kitted and briefed. All our events are totally exclusive and private to yourselves, so you can be sure that it will be your group popping the bubbly in the famous Grand Prix Karting podium ceremony.
Stag and Hens can kart for FREE !
Book 15 or more drivers in one of our weekend race packages and the Stag or Hen's karting will be absolutely free! (Cannot be used in conjunction with any other special offer or promotion).
Please click the following link for prices and more details of our range of Exclusive Adult Group Events suitable for Stag and Hen parties on the National and International Circuits.
Polite Warning:
This is motor sport and any driver found to be under the influence of alcohol or drugs will be excluded without refund. What you do after you leave is, of course, entirely up to you!