Birmingham Go Karting Special Offers
Stag and Hens kart for FREE !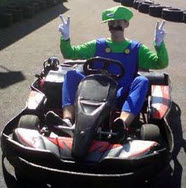 There is no more exhilarating way to start your Stag or Hen celebrations than a race event on the National or International Circuit. This is no indoor traffic jam but life in the fast lane with REAL Karts on a REAL Circuit and it's just a mile from the bars, clubs, restaurants and hotels of Birmingham city centre, this unique venue is a must for every driving enthusiast.
Book 15 or more drivers in one of our weekend race packages and the Stag or Hen's karting will be absolutely free! (Cannot be used in conjunction with any other special offer or promotion).
Please click the link for prices and more details of our range of Exclusive Adult Race Packages suitable for your Stag or Hen party on the National and International Circuits.
Open Races for Individuals and Small Groups

If you don't have quite enough drivers for your own exclusive race event then you can book into one of our regular Open Race Dates listed below where we will combine you with other similar small groups who are not as competitive as the Open League drivers.
These events are usually based on our signature Wheels 30 adult race package using 60mph ThunderKarts on the 1km Birmingham Wheels International Circuit and costs just £60 per driver. Occasionally other formats are listed such as events on the smaller National Circuit, longer events based on the Ironman or Twenty:20 formats, or special seasonal events.
If the date you want isn't listed below then please contact us and we can find something suitable to entertain your small group or, with sufficient notice, add it to the list.
Special Offer - Save 10% when you book online any of the following dates featured below:
Only limited spaces available in each session. Do not delay, pick up the phone and call 0121 327 7700 and reserve your place on the grid now... before somebody else does!!!
The Open League Challenge

First To Forty - Sun 11th October, 2.30pm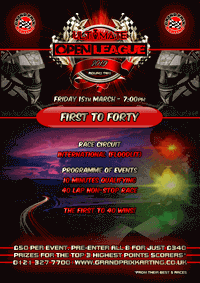 The "Ultimate Open League Challenge" allows individuals, small groups and die-hard enthusiasts to meet and compete against each other and find out who really is the best driver of the day.
Our next "Open" event is Sunday 11th October, 2.30pm at a special price of just £50 per person.
The event will be held on the massive International circuit, which measures in at a distance of just under 1km, and will comprise of a 10 minute qualifying session, followed by a full non-stop 40 lap race.
Put pedal to the metal in an attempt for glory to be the first driver across the floodlit finish line! Medals and bubbly spraying on the podium for the top 3 drivers.
This event forms part of the "Ultimate Mini League Challenge 2020", more details and the League Table can found on the Open League Challenge page.
Places are strictly limited and many rounds sold out last year, so call 0121 327 7700 or click the button below to book your place on the grid now.