Circuits / Club Circuit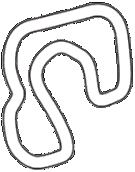 The 'Club' is custom designed to provide a testing and competitive circuit for single engine pro-karts. Constructed in race tarmac, this fast circuit requires a high degree of driver concentration to hold the racing line through testing hair-pin turns, sweeping bends, shimmies and chicanes.
More compact than the MSA Circuits, the Club offers a logical progression for drivers who have raced at indoor circuits.